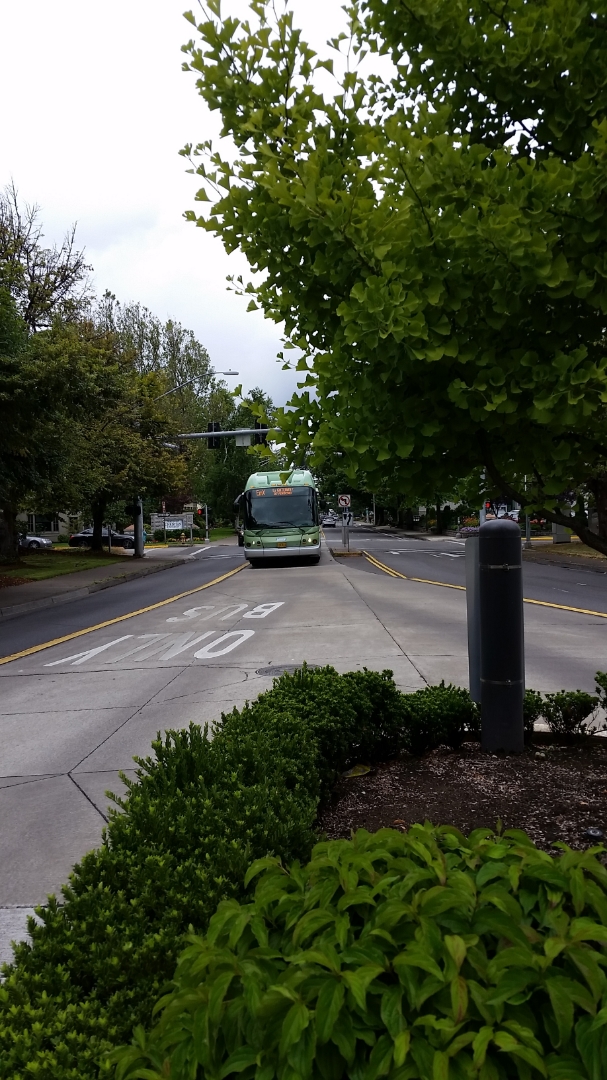 I was in Portland last weekend for a friend's wedding and took the family on a little day trip detour to Eugene to see their BRT — the Emerald Express (EmX), which I've always associated with images of a busway with a bright green strip of grass down the center.
I rode the 4-mile Green Line route in downtown Eugene around University of Oregon, and EmX also includes a 7.5 mile Gateway Line between neighboring downtown Springfield and a hospital up north. The bus lane treatment varies along the length of the two EmX routes, including the fully separated busway with iconic green grass strip down the center and median stations. In some places EmX operates in a dedicated bus lane with no physical segregation (a painted lane line), and still elsewhere the bus runs in mixed traffic stopping at curbside stops.
What I didn't appreciate before visiting the system, was that in some places the median EmX lanes collapse to a single track — inbound & outbound buses coordinate to share a single median bus lane (similar to the single-track section in Fort Collins' MAX BRT). Nor did I realize that since the buses access both median and curbside stations they have both left and right-hand doors (something I saw Johannesburg's Rea Vaya system later adopt).
The stations are simple and modest — with roof panels and seating but no walls. There's prepaid boarding (although the fare machines were not working when I boarded) and real time bus arrival information boards. Passengers board the articulated buses level with the station. And at least some of the buses have bike rack space for 2-3 bikes. Green Line stations also include a touch of art -- the pedestrian ramp railings include cast metal panels with images of local plants.
EmX is a good quality BRT system that seems to serve the needs of this small community well. The system carries more than 2.8 million passengers per year in a metropolitan area with population of only 220,000. In 2013, the EmX Green Line received a Bronze rating by the BRT Standard.
Lane Transit District is hoping to build upon its EmX success, with a $95.6 million, 9-mile West Eugene Extension slated to open fall 2017.